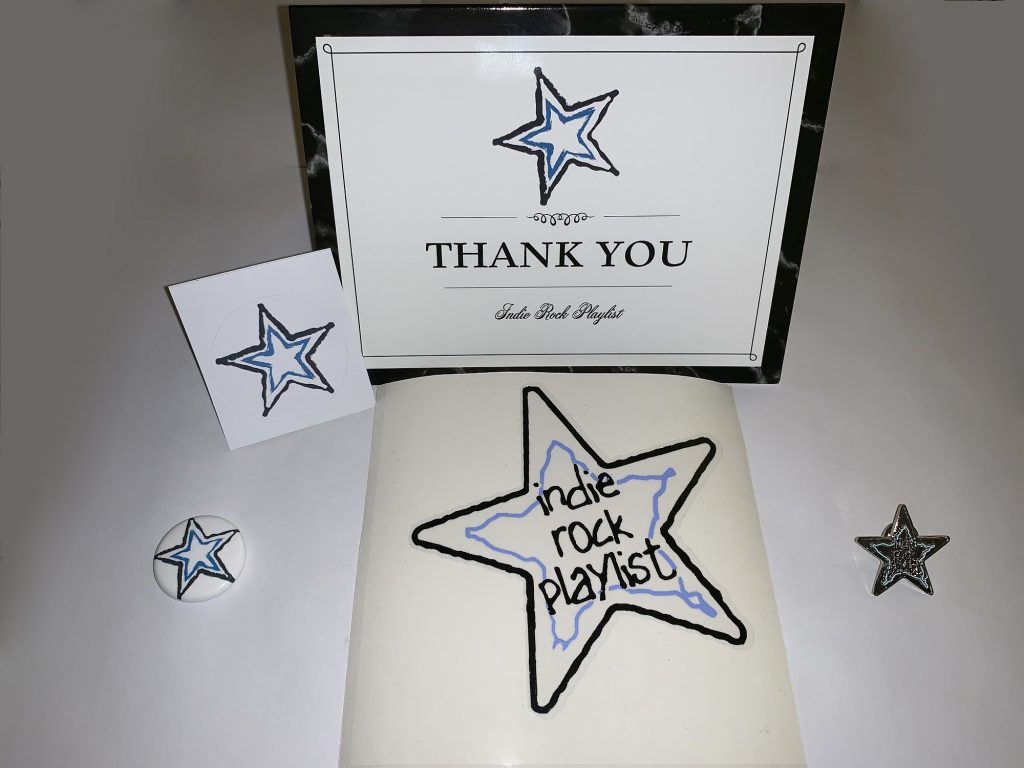 We reached our goal!
We did it! We've reached our funding goal in just under two months.
We couldn't be more grateful to our fans and supporters for getting us there. You guys saved IRP, and will be commemorated on the IRP supporters page for as long as IRP exists: https://www.theindierockplaylist.com/irp-supporters
We're leaving the GoFundMe campaign open until 2020 for anyone that still wants to become a supporter or have a chance at getting any remaining IRP paraphernalia. Some donors have opted out of recieving the rewards, so there may still be something left.
For those waiting on the IRP rewards, we'll be contacting the $100+ donors first, then we'll conact $10+ donors in order of donation date – this includes the unlisted PayPal donations.
As stated before, supplies are limited and won't be restocked.
This is our anticipated schedule:
First, we want to release the next playlists, then we'll get the cards, pins, buttons, and stickers sent out.
For the last IRP shirt, we'll have a drawing for all of the $100+ donors.
1. IRP December (2019)
[release date: mid December]
2. IRP Best of (2018-2019)
[release date: before Jan 1st]
3. Contact GFM and PayPal donors for rewards
[should be before Jan 1st, possibly a bit after]
4. Send out $100+ donor rewards
5. Send out $10+ donor rewards in order of donation date
6. Begin adding old playlists back and fixing the site
7. Increase playlist production rate
It's going to take us some time to get to step 6, and much more time to complete it, so please be patient with us.
As for the new addition, an IRP band has offered to add the names of the $100 donors to the next (IRP) Intro. Optionally, we'll use an alias of your choosing if you prefer to not have your full name in a song 🙂
$20
– IRP Pin or Button or (original)IRP Sticker
$40
– Choose 2 from Pin/Button/IRP Sticker
$60
– IRP Pin, Button, and (original)IRP Sticker
$100 – IRP Pin, Button, (original)IRP Sticker, a chance to win the last IRP shirt(Large M), and personally thanked in the next IRP Intro song. Guaranteed first access to rewards.
Here's our current supply of rewards:
Top donors($100+) will be given first access to the rewards we're offering, after that it's first come first serve.
Original Clear BG IRP Stickers: 13
Original White BG IRP Stickers: 35
Small 'new star' IRP Stickers: 96
Check GoFundMe for updated statistics on reward availability.
As of this post, PayPal donations of $10 or more: 8
PayPal: Criznittle@juno.com
Note: Disregard the change in beneficiary to the GoFundMe campaign, all funds will still go directly to IRP Aid.
We needed to quickly change to an accepted bank or they'd no longer accept donations. Nothing has changed on the donor end.